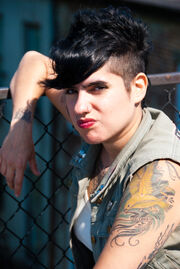 Cristy C. Road (born May 26, 1982) is what Billie Joe Armstrong, lead singer of Green Day, calls "a BAD ASS"! Born thirty years ago in Miami, she began illustrating and publishing a punk rock zine, Green 'zine. She then published her widely acclaimed graphic memoir, Bad Habit (Soft Skull, 2008) and Indestructible (Microcosm, 2006), a graphic novel, and started touring nationally and internationally with Sister Spit, with her band, The Homewreckers, and on her own. Her work has appeared on countless record and book covers, in zines, political posters, and signs, and in anthologies and magazines. Spit and Passion is Road's pre-teen memoir about coming out, finding religion (not what you think), and her chronic obsession with Green Day. She hibernates in Brooklyn, New York.
Ad blocker interference detected!
Wikia is a free-to-use site that makes money from advertising. We have a modified experience for viewers using ad blockers

Wikia is not accessible if you've made further modifications. Remove the custom ad blocker rule(s) and the page will load as expected.