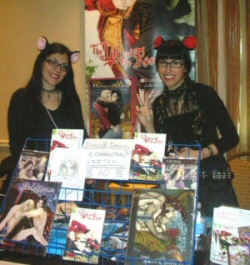 Daniela Serri
and
Daniela Orru
are an Italian comics-creating team that made their publishing debut, in Italy, in 2002. They made their American debut in 2007, with publisher Yaoi Press, who released many of their Italian-yaoi titles, in English.
In 2006, the created IdeaComics, together with Massimo Dall'Oglio, and published the first issue of their current manga series, Dàimones, which saw brief publication in Tokyo Pop's pilot program, before that companies exit from publishing.
Ms. Serri and Ms. Orru work as instructors in two comic schools in Cagliari, Italy: Gruppo Misto Comic Lab and Fare Fumetto.
Bibliography
Edit
Daimones: Ex tenebris (2010) (Italy)
ANIMA (2008)
Dark Dreams: Dany & Dany Artbook (2008)
Lily and the Rose (2008)
IDOL (2007)
Wishing for the Moon (2007)
Ad blocker interference detected!
Wikia is a free-to-use site that makes money from advertising. We have a modified experience for viewers using ad blockers

Wikia is not accessible if you've made further modifications. Remove the custom ad blocker rule(s) and the page will load as expected.