Dirty Diamonds is an anthology based out of Philadelphia, Pennsylvania, edited by Kelly Phillips & Claire Folkman. Each of the first four issues were donated in 2013 to the permanent comics collection at the Library of Congress, as part of the Library's joint effort with the Small Press Expo to preserve independent comics.
Issue 1: Alcohol
Edit
Published August 2011
The first issue of DIRTY DIAMONDS debuted in the summer of 2011 with the theme ALCOHOL.
Issue 2: Jobs
Edit
Published April 2012
The second issue of DIRTY DIAMONDS! Featuring 10 stories about JOBS! The first open-submission issue doubled the size of the first book and features international contributors!
Issue 3: Travel
Edit
Published Winter 2012
The third issue of DIRTY DIAMONDS, featuring comics about Travel! Read about getting good and lost, dumb tourists, meeting childhood heroes, life in the future, resigning to life on a bus, hot oil in France, crazy storms, and how a road trip leads to unexpected places.
Issue 4: Break-ups
Edit
Published Fall 2013
The fourth installment of DIRTY DIAMONDS, debuting at SPX 2013! Featuring 12 stories about BREAK-UPS with boyfriends, spirituality, virtual pet gaming sites, and other subjects guaranteed to make you feel a little uncomfortable.
Issue 5: Comics
Edit
The milestone fifth issue of DIRTY DIAMONDS, and this one's a doozy! Our first professionally printed book features 32 artists from six different contries all telling stories about the medium that means the most to them - comics! Read stories about these artists' best, worst, and first experiences with comics.
Cover by Carey Pietsch
Issue 6: Beauty
Edit
From feelings about bodies and hair, to surgery scars and extra nipples, to gut bacteria and gargoyles, this book is bursting with incredible comics by amazing women from around the world. Dirty Diamonds #6: Beauty features comics from over 50 contributors in a massive collection that aims to celebrate, examine, challenge, and embrace what beauty is all about.
Cover by Carolyn Nowak
Self-Image
Edit
Splash page by Kate MacDonald
Splash page by Noni Garcia
Appearance
Edit
Splash page by Dre Grigoropol
Being Yourself
Edit
Splash page by Sara Goetter
Splash page by Anna Krztoń
Splash page by Kimberly Frisch
Noni Garcia
Kimberly Frisch
Anna Krztoń
Issue 7: Imagination
Edit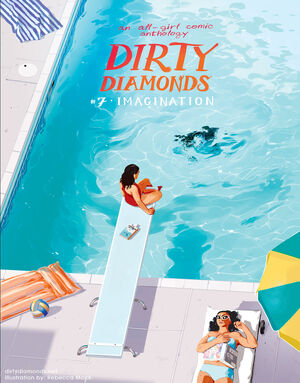 Cover by Rebecca Mock
Alex Graudins
Anna "Capp" Assan
Anna Krztoń
Anna Wieszczyk
Anne Mondeel
Ashanti Fortson
Bilge Emir
Bree Jordan
Brie Katherine
Caitlin Skaalrud
Cathi Chavers
Chu
Claire Folkman
Crystal "Scotty" Jayme
Cyn Why
Dre Grigoropol
Emily Ree
Giselle Sarmiento
Grace Teoh
J.B. Monte
Jay Jacques
Jennifer Chan
Kat Efird
Kat Fajardo
Kata Kane
Katie Alexander-O'Carroll
Kelly Leigh Miller
Kelly Phillips
Kielamel Sibal
Kimberly Frisch
Laura Ellyn
Leslie Craig
Letty Wilson
Lisa Imperiale
Liz Rosema
M. Victoria Robado
Madeleine LaPlante
Magdalene Visaggio
Meagan Ciongoli
Megan Crow
Mirana Reveier
Natalie Riess
Noni Garcia
Rica March
Sage Coffey
Samantha Kyle
Sara Goetter
Sarah Burns
Sarah Simes
Shannon Murphy
Shauna J. Grant
Shivana Sookdeo
Soumya Dhulekar
Štěpánka Jislová
Stephanie Hovden
T.R. Logan
Tara O'Connor
Vicky Leta
Virus Visal
Win Evans
Splash pages
Carey Pietsch
Carolyn Nowak
Lucie Towers
thesunnygo
Yao Xiao
Issue 8: Sex
Edit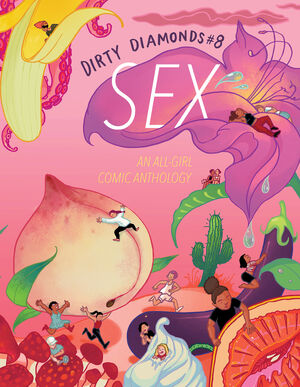 Alex Graudins
Alex Newbigging 
Amna Abbas 
Amy Filmer 
Anna Krztoń 
Arielle Estrella 
Ashley Leckwold 
Baddie Class 
Bree Jordan 
Brianna Gilmartin 
Capitalette 
Carolyn Nowak 
CB Hart 
Cecília Fumaneri 
Christine Larsen 
Chu 
Claire Folkman 
Crystal Jayme 
Cyn Why?
Grace Teoh 
Hannah K. Messler 
Heather Kenealy 
Imas Esther 
Jenn Woodall 
Jenn Arledge 
Jillian Fleck 
Karin Blaauwijkel 
Katie Orcutt 
Kelly Bastow 
Kelly Phillips 
Kim Frisch 
Lilly Taing 
Lindsay Ishihiro 
Lisa Wolinsky 
Lorena Reyes 
Lucie Towers  
Madeleine LaPlante 
Maria Bee 
Maria Kammerer 
Marie-Anne Dt 
Marilena Ness 
Marlene K. 
Megan Crow 
Meghan Lands 
Meredith W. Park 
Mirana Reveier 
Noni Garcia 
Nova Sawatzky 
Olivia Li 
Olivia Stephens 
Priya Huq 
Querelle 
Rachel Ordway 
Rica March 
Robyn Haley 
s.Jane Mills 
Shauna J. Grant 
Silvia Carrus 
Soumya Dhulekar 
Spratty 
Štěpánka Jislová 
Tara O'Connor
Vreni
Win Evans 
Yao Xiao 
Yury Guzman
Issue 9: Being
Edit
Proposals for issue 9 are being accepted through April 6th, 2018.
External Links
Edit