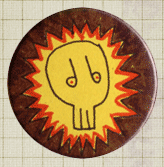 Dotterbolaget is a Swedish feminist comics group founded in Spring 2005, by women who met at the Comic Art School at Kvarnby College (Serieskolan på Kvarnby folkhögskola) in Malmö. The group acts as both a social group and a professional network for women creators.
External Links
Edit
Ad blocker interference detected!
Wikia is a free-to-use site that makes money from advertising. We have a modified experience for viewers using ad blockers

Wikia is not accessible if you've made further modifications. Remove the custom ad blocker rule(s) and the page will load as expected.