Evelyn Flinders (March 21, 1910 - November 1997) was a British comics artist who worked in girls' comics.
She entered Hornsey Art School at the age of fifteen, and in 1928 got her first job with the Amalgamated Press, drawing for Schooldays. She went on to draw "Morcove" and "Cliff House" for Schoolgirl's Own, and "Autograph Ann", "Little Lady Bountiful" and "Helen Rourne" for Schoolgirl's Weekly throughout the 1930s. In the later 1930s she drew for Girl's Crystal.
During the Second World War she worked in an armaments factory, making wooden cases for shells, but still managed to use her artistic talents to produce posters for Christmas pantomimes. After the war she returned to work as a freelance illustrator for the Amalgamated Press. When the story paper School Friend was relaunched as a comic in 1950, her strip "The Silent Three", written by Horace Boyten and Stewart Pride, was the cover feature (it later inspired Posy Simmonds' satirical strip "The Silent Three of St. Botolph's"). She also drew "Trixie's Diary" (early 1950s) and "The Masked Ballerina" (1955-56).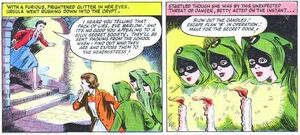 After the AP was taken over by the Mirror Group she left
School Friend
, but continued to draw for
Schoolgirl's Own Picture Library
. She retired in 1959.
References
Edit
Clarke, Alan. Dictionary of British Comic Artists, Writers and Editors, The British Library, 1998, p. 58-59
Cloud Chamber 106, June 2000
Ad blocker interference detected!
Wikia is a free-to-use site that makes money from advertising. We have a modified experience for viewers using ad blockers

Wikia is not accessible if you've made further modifications. Remove the custom ad blocker rule(s) and the page will load as expected.