Festival BD au Féminin ("Women in Comics Festival") is a somewhat annual festival in Igny, Essonne, France, organized by BD'Essonne, established in 2006. The festival takes place in March to coincide with International Women's Day. It also includes an after-hours go-karting race.
The last one was held in 2013, but as of March 2017, BD'Essonne is still considering holding another in the future.[1]
Poster Gallery
Edit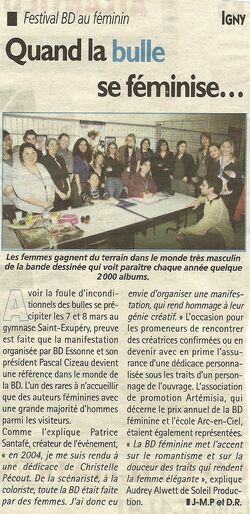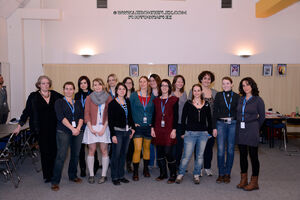 External Links
Edit
↑ Comments on BD'Essone blog post "Festival BD au Féminin 2013 – Les Photos", 2-3 March 2017; Commenter Ping asked, "A quand la prochaine édition?" ("When is the next one?"), to which festival personnel Jessica Fragoso replied, "Nous y réfléchissons." ("We're thinking about it.")
Ad blocker interference detected!
Wikia is a free-to-use site that makes money from advertising. We have a modified experience for viewers using ad blockers

Wikia is not accessible if you've made further modifications. Remove the custom ad blocker rule(s) and the page will load as expected.