Fnitter (Giggles) was a Swedish feminist humor anthology published in 1981 by publisher Prisma in cooperation with some of the evening newspaper Aftonbladet's female editors. It had two sequels: Mera Fnitter ("More Giggles") published in 1982, and Ännu mera Fnitter ("Even more giggles") in 1983. The anthologies had a clear feminist character, and contained a mixture of texts, short stories, poems, illustrations, photographs, collages, cartoons and comics. The humor ranged from slapstick to satire to black comedy.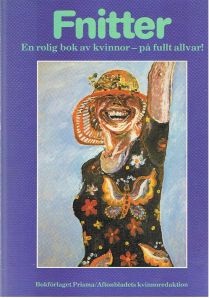 Mera Fnitter
Edit
Inger Armour (photo series)
Eva Lindström
Tuija Lindstrom (photo series)
Anette Palm Wigardt (photo series)
Ännu mera Fnitter
Edit
Christina Alvner
Eva Berglund
Monika Englund (photo series)
Gunna Grähs
Bibi Hammar (photo series)
Mia Högberg
Eva Lindström
Joanna Helander (photo series)
Anette Palm Wigardt (photo series)
Ad blocker interference detected!
Wikia is a free-to-use site that makes money from advertising. We have a modified experience for viewers using ad blockers

Wikia is not accessible if you've made further modifications. Remove the custom ad blocker rule(s) and the page will load as expected.