Friends of Lulu was a non-profit, national charitable organization in the United States, founded in 1994 to promote readership of comic books by women and the participation of women in the comic book industry. Co-founder Trina Robbins recalls that a Cherry Poptart lookalike contest sponsored by Comic-Con International was the "last straw" that inspired the creation of the organization.[1]
The organization takes its name from "Little Lulu", the comic strip character created by Marjorie Henderson Buell in 1935. In the comics, Lulu often tries to break into the boys' clubhouse, where girls aren't allowed. In 1997 the first annual Lulu conference was held in California, and the first annual Lulu Awards were also held. Friends of Lulu has published a number of books including, How to Get Girls (Into Your Store), a guide for comics shop owners on how to make their stores more female-friendly, and Broad Appeal, an anthology of comics by women artists. In 2000, Friends of Lulu was awarded a grant from the Xeric Foundation to self-publish Friends of Lulu: Storytime. The Girls' Guide to Guys' Stuff, published in 2007, features over 50 female cartoonists presenting their takes on men and their interests. The anthology includes contributions from Roberta Gregory, Abby Denson, Debbie Huey and many others. In September 2007, Valerie D'Orazio was named national president of the Friends of Lulu organization.
In August of 2010, an interim Board Of Directors was reestablished and on August 8, the Friends Of Lulu 2010 Awards were launched. The award winners were named in October 2010. In June 2011, the IRS revoked the organization's tax-exempt status as a non-profit.[2] The group ceased operating shortly afterwards.[3]
Lulu Awards
Edit
The Lulu Awards, presented annually at Comic-Con International in San Diego, California, bestowed the Lulu of the Year trophy for overall work; with additionally awards, variously over the years, having included the Kimberly Yale Award for Best New Talent; the Volunteer of the Year Award; and both the Women of Distinction Award ("Recognizing those whose work best exemplifies Friends of Lulu's mission of promoting diversity in comics") and induction into the Women Cartoonists Hall of Fame.
Women Cartoonists Hall of Fame: Lynn Johnston (For Better or Worse)
Lulu of the Year: Sequential Tart (Marcia Allass – Editor)
Kim Yale Award for Best New Talent: Ashley-Jane Nicholaus (Haven) and Gisèle Lagacé (Cool Cat Studio)
Volunteer of the Year Award: Elayne Riggs (Former President of FoL NY Chapter)
Women Cartoonists Hall of Fame: Wendy Pini (ElfQuest)
Lulu of the Year: Joe Field (Free Comic Book Day Inaugural Year)
Kim Yale Award for Best New Talent: Raina Telgemeier (Take Out Comics)
Volunteer of the Year Award: Dave Roman (Editor, Broad Appeal) & Chris Kohler (webmaster)
Women Cartoonists Hall of Fame: Roberta Gregory (Naughty Bits, Artistic Licentiousness)
Lulu of the Year: Scholastic/Graphix, Publisher (Babysitters Club, Queen Bee, Breaking Up)
Kim Yale Award for Best New Female Talent: Leigh Dragoon (By the Wayside)
Women of Distinction: Diana Schutz (Editor, Dark Horse)
Volunteer of the Year: Donnie Tracey of Gotham City Limits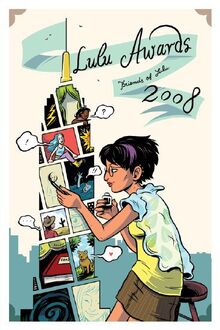 Female Comic Creators Hall of Fame: Gail Simone
Lulu of the Year: Danielle Corsetto (Girls with Slingshots)
Kim Yale Award For Best New Talent: Kate Beaton (Hark, a Vagrant)
Woman of Distinction: Joanne Carter Siegel
Leah Adezio Award for Best Kid-Friendly Work: Rapunzel's Revenge, by Shannon Hale, Dean Hale, and Nathan Hale
Best Female Character: Monica Villarreal, from Wapsi Square by Paul Taylor
Volunteer of The Year: Marion Vitus
References
Edit
↑

Wilonsky, Robert. "Fatal femmes: Why do women in comics become Women in Refrigerators?" Dallas Observer, May 18, 2000

↑ Draper Carlson, Johanna. "It's Official — Friends of Lulu No Longer a Non-Profit Organization, 10 June 2011
↑ Carlson, Friends of Lulu Done and Gone, 30 June 2011
Ad blocker interference detected!
Wikia is a free-to-use site that makes money from advertising. We have a modified experience for viewers using ad blockers

Wikia is not accessible if you've made further modifications. Remove the custom ad blocker rule(s) and the page will load as expected.