History of Women in Editorial Cartoons
Comments

0
640pages on
this wiki
Editorial and political cartoons have existed for at least as long as the printing press, but reached an apex in the 19th century. It was especially difficult for women to break into editorial cartooning, since women were discouraged from discussing politics at all.
Early Editorial Cartoons
Edit
Suffrage Cartoons
Edit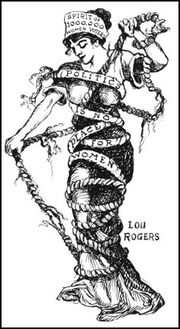 Perhaps unsurprisingly, one of the earliest political subject that women addressed en masse was the struggle for their own right to vote.
United States
Edit
Nina Allender, Blanche Ames, Cornelia Barns, Nell Brinkley, Edwina Dumm, Laura Foster, Rose O'Neill, Fredrikke Palmer, Mary Wilson Preston, Ida Proper, Lou Rogers, Mary Sigsbee, Mary Taylor, Alice Beach Winter
United Kingdom
Edit
The Artists' Suffrage League and Suffrage Atelier were two artists' organizations, consisting of men and women, that produced cartoons, posters and postcards in support of women's right to vote. The ASL employed mostly professional and fine artists, such as Mary Lowndes, Barbara Forbes, May H. Barker, Clara Billing, Dora Meeson Coates, Violet Garrard, Bertha Newcombe, C. Hedly Charlton, Emily Ford, Mary Sargant Florence, Joan Drew, and Emily J. Harding, while the Atelier encouraged more amateur artists, such as Catherine Courtauld, Louise R. Jacobs, though they also had fine artists such as Pamela Colman Smith. Other artists worked independently, such as Ernestine Mills
Other Political Movements
Edit
Grace Gifford[1] was an Irish Republican cartoonist in the early 20th century.
Modern Editorial Cartoons
Edit
North America
Edit
From the Great Depression through the Cold War, the only female editorial cartoonist in the United States was Anne Mergen.[1]
Etta Hulme was the first woman to win the National Cartoonist Society Award for Editorial Cartooning in 1981, and she won again in 1998. Signe Wilkinson was the first woman to win the Pulitzer Prize for Editorial Cartooning in 1992; Ann Telnaes followed in 2001
Other current notable female editorial cartoonists include Annette Balesteri, Lisa Benson, Susie Cagle, Chelsea Carr, Ann Cleaves, Anne Ganz, Jocelyne Leger, Stephanie McMillan, Kate Palmer, Mikhaela Reid, Jen Sorensen, Elena Steier, Sage Stossel, and Pam Winters.
One of the primary outlets for editorial cartoons and satire in France is the magazine Charlie Hebdo, which counts Catherine Meurisse, Camille Besse, Coco, and Catherine Beaunez among its regular contributors. Other female editorial cartoonists include Christine Lesueur[2] and Françoise Ménager[3].
Australia & New Zealand
Edit
Middle East
Edit
Hana Hajjar is a political cartoonist for the English-language Arab News, and is the only female political cartoonist in Saudi Arabia. [5] In Egypt, Dooa Eladl is one of the best-known political cartoonists, published in the prominent newspaper Al-Masry Al-Youm. She has the distinction of being the first Egyptian cartoonist to face blasphemy charges for a cartoon featuring Adam and Eve.[6]
South America
Edit
Comics Journalism
Edit
A relatively recent movement, cartoonists have started to turn to long-form journalism. Notable women involved include Susie Cagle, Molly Crabapple, Sarah Glidden, Lucy Bellwood, and Sarah Mirk. The first comics journalism tablet magazine, Symbolia, was founded by Erin Polgreen and Joyce Rice.
External Links
Edit
↑ Anne Mergen: Editoral Cartoonist exhibition page