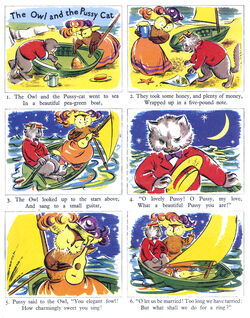 Marjorie Jennetta B. Vise (b. Fulham, London, 9 September 1912; d. Chichester, 1979) started out as a sub-editor in the technical book publishing department of George Newnes Ltd in the 1940s. She set up a studio in London and began to get work as a freelance illustrator.
Some of her work was in British nursery comics. She drew "Bingo, Bango and Bongo" for Robin from 1953 to 1957, writing and illustration for the Robin annuals from 1953 to 1962, and "Andy Pandy" for Pippin in the 1970s.
References
Edit
Ad blocker interference detected!
Wikia is a free-to-use site that makes money from advertising. We have a modified experience for viewers using ad blockers

Wikia is not accessible if you've made further modifications. Remove the custom ad blocker rule(s) and the page will load as expected.