Johanna Marcadé (Paris, 1983) is part of the publishing house Turbo Comix based in Pančevo, Serbia, and one of the organisers of the festival of the non-aligned comics Novo Doba. She has been publishing her work in various fanzines and collective publications, such as Gestroco Club, Günter Grünt, Avorton, Vaampyr, kARTon, Symposion...
Graphic designer, comics author and organiser, she is working and living in Serbia since 2007.
www.novodobafestival.net
www.turbocomix.eu/blog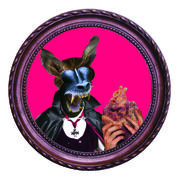 Ad blocker interference detected!
Wikia is a free-to-use site that makes money from advertising. We have a modified experience for viewers using ad blockers

Wikia is not accessible if you've made further modifications. Remove the custom ad blocker rule(s) and the page will load as expected.