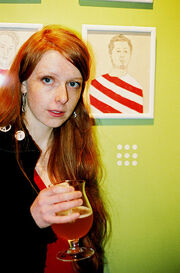 Julia Gfrörer is an American illustrator. She was born on at 1:10 am on Sunday September 12, 1982 in Concord, New Hampshire. She has a BFA from Cornish College of the Arts in Seattle, Washington, and currently lives and works in Portland, Oregon. She is a splendid young woman equipped with sharp teeth, roughly 463 freckles on her left hand and an imposing tangle of shining bright orange hair.
External Links
Edit
Ad blocker interference detected!
Wikia is a free-to-use site that makes money from advertising. We have a modified experience for viewers using ad blockers

Wikia is not accessible if you've made further modifications. Remove the custom ad blocker rule(s) and the page will load as expected.