Manhunt, also known as Manhunt Comix was an underground anthology edited by Terry Richards that ran for two issues from 1973 to 1974. It is notable among feminist underground comix of the time for having several male contributors creating stories that contrast dramatically with the overwhelmingly chauvanist and misogynistic output from the rest of male underground cartoonists of the time. Some of these men were either married to or would later marry prominent women cartoonists (e.g. Ted Richards to Terry, Justin Green to Carol Tyler).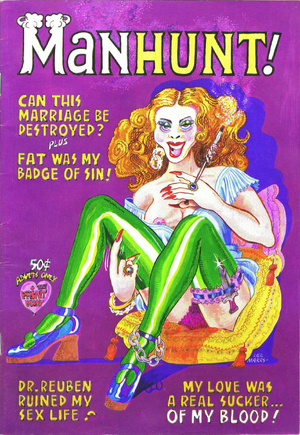 Cover by
Lee Marrs
"Add-a-Breast" advertisement by Terry Richards
I Loved a Vampire... and Lived by Michele Brand
Yell Queen by Gary Hallgren
Hot Breakfast by Shary Flenniken (as Melody Friendship)
Henpeck Breaks Out by Willy Murphy
My Fat Came Between Us by Aline Kominsky
Ms Mary Worthless by anonymous
Manhunt! by Gary Hallgren
Little League by Ted Richards
Dr. Reuben Ruined My Sex Life by Lora Fountain
The Left-Overs: Boys Will Be Boys by Gary King
Slum Goddess by Bobby London
The Blow Job by Shelby Samson
Can This Marriage Be Destroyed? by Ted Richards
Calamity Jane Gets Her Man by Sharon Rudahl
The Brassiere Charades (back cover) written by Gail Madonea, art by Lee Marrs
Cover by Becky Wilson
Step Into My Boudoir by "Helen Dirty Girly" (probably Terry Richards)
I Was a Fag Hag written by Lola Bennet, art by Trina Robbins
My Lovers' Line-up by Justin Green
A Separate Reality written by Ted Richards, art by T. Stanley
Child Molester by Leslie Carbarga
The Sexual Intellectual (text article) by Nancy Griffith
Meet Mark Turk by Terry Richards, co-written by Willy Murphy
A Hard Man is Good to Find by Gary Hallgren
I Cheated to Save My Marriage by Sharon Rudahl
The Man From M.A.C.H.O. by Ted Richards, co-written by Sheridan Anderson
Astro-Match by Terry Richards
Henry's Punctured Romance by Willy Murphy
Cock O' The Wok by Gary Hallgren
I Wuz a Teenage Intellekshul by Lee Marrs
Magna-Vibes by Justin Green
"Manhunt Satisfies" advertisement parody by Shelby Sampson
External Links
Edit
Ad blocker interference detected!
Wikia is a free-to-use site that makes money from advertising. We have a modified experience for viewers using ad blockers

Wikia is not accessible if you've made further modifications. Remove the custom ad blocker rule(s) and the page will load as expected.