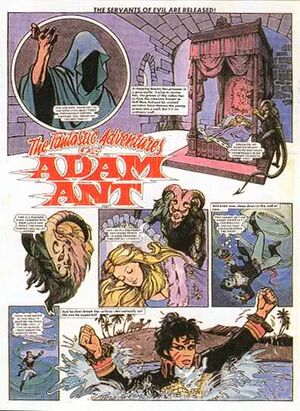 Maureen Gray (b. c. 1940?), in collaboration with her husband Gordon, drew "Kid's Army" and adaptations of TV and pop music tie-ins like Fame and "The Fantastic Adventures of Adam Ant" for DC Thomson's TV Tops comic, c. 1982. They then started working for Look-In, drawing "Buck's Fizz" (1983-84), "The Story So Far" (1985-86), "Airwolf" (1986-87) and "Five Star Life" (1987). The pair usually signed their work "Gray". The couple also illustrated numerous books between 1974 and 2003. In 2007 Maureen created a graphic novel, The Haunting of Julia, based on Mary Hooper's children's novel Thirteen Candles. The Grays were based in Dunoon, Scotland.
References
Edit
Ad blocker interference detected!
Wikia is a free-to-use site that makes money from advertising. We have a modified experience for viewers using ad blockers

Wikia is not accessible if you've made further modifications. Remove the custom ad blocker rule(s) and the page will load as expected.