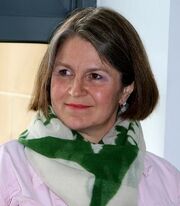 Nicola Streeten is a British graphic novelist and illustrator. Her graphic memoir
Billy, Me & You (2011, Myriad Editions)
is the first memoir by a British woman to have been published. It received Highly Commended in the British Medical Association Book Awards, 2012. She is currently working on a PhD at the University of Sussex in gender studies on Contemporary British Womens comics.
www.streetenillustration.com 
Ad blocker interference detected!
Wikia is a free-to-use site that makes money from advertising. We have a modified experience for viewers using ad blockers

Wikia is not accessible if you've made further modifications. Remove the custom ad blocker rule(s) and the page will load as expected.