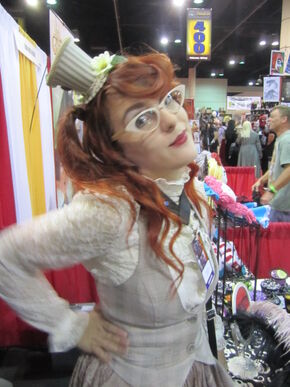 Paige Lavoie is a self-taught comic artist/writer based in Central Florida who describes herself on her blog as "The Self proclaimed queen of silly faces".
Paige updates her current comic Pumpkin Spiced twice a week online. The art style is unique with gothic and punky character designs with a manga influence. 
In her spare time, she posts weekly vlogs on youtube.
Comic Series History
Edit
Pumpkin Spiced is a reboot of Paige's long running series The Graveyard Girls, straying away from the "punny" strips she had been creating from 2005-2012 and instead diving into the backstories of each kooky character. 
External Links
Edit
Ad blocker interference detected!
Wikia is a free-to-use site that makes money from advertising. We have a modified experience for viewers using ad blockers

Wikia is not accessible if you've made further modifications. Remove the custom ad blocker rule(s) and the page will load as expected.