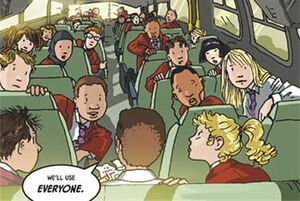 Patrice Aggs is an illustrator originally from Detroit, Michigan who works in the UK. She studied at St John's College, Annapolis and City & Guilds Art School in London, and has illustrated more than 50 children's books and worked in animation, including on The Snowman. In 2008 she drew "The Boss", written by her son John Aggs, for The DFC, a comics anthology for children published by Random House. She is writing and drawing "What Will Happen Next?!" for The DFC's spiritual successor, The Phoenix, launching in 2012.
She has also contributed to the Whores of Mensa and The Strumpet anthologies for adults.
External links
Edit
Ad blocker interference detected!
Wikia is a free-to-use site that makes money from advertising. We have a modified experience for viewers using ad blockers

Wikia is not accessible if you've made further modifications. Remove the custom ad blocker rule(s) and the page will load as expected.