Pauline Loth was a comic book artist, animator, and voice actress in the 1930s and '40s.
Between 1939 and 1942 she had been a voice actor for 'Mr Bug Goes to Town' and worked as an assistant animator at Fleischer. Initially working through Jack Binder's studio, she illustrated 'Superbaby' in Timely's Terry-Toons. According to Vince Fago, the editor-in-chief at the time, she became the artist of 'Miss America' when the character got her own title in 1944. Later, as Pauline O'Sullivan, she served as fashion editor on Miss America Magazine[1]
She also inked 'Blackstone' for Street & Smith and 'Captain Marvel' and 'Captain Midnight' for Fawcett. Later, she was present at Better Publications with western art.[2]
Bibliography
Edit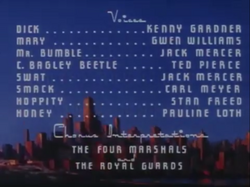 Junior Miss (1944) #1
Miss America (1944) #1-5

"Miss America"
"Patsy Walker"
External Links
Edit
Ad blocker interference detected!
Wikia is a free-to-use site that makes money from advertising. We have a modified experience for viewers using ad blockers

Wikia is not accessible if you've made further modifications. Remove the custom ad blocker rule(s) and the page will load as expected.