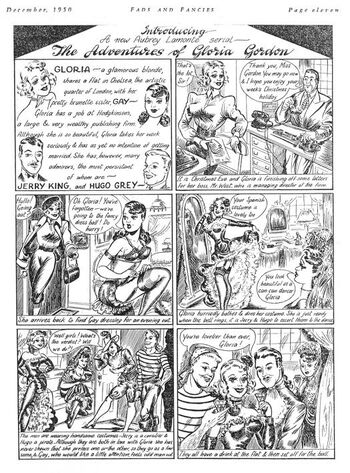 Reina Mary Bull, née Sington, was born on July 24, 1924 in Bexhill-on-Sea, England.
She spent part of her childhood in Japan, where her German-born father was a lecturer. She began her career as an artist by illustrating cheap, saucy paperbacks and magazines in the later 40s, signing her work "Sington", "Reina" and "Janine". Her magazine work included comic strips, including "The Adventures of Gloria Gordon" for Fads and Fancies magazine (1950). In the 50s she painted covers for science fiction magazines, signed "RMB", in a style reminiscent of American illustrator Margaret Brundage. Her work focused on women, often in peril and in states of undress, and showed a disregard for formal perspective and anatomy.
She married Randolph Cecil Bull, a publishing executive and editor, in 1949, but appears to have divorced him, as her death, in Uttesford, Essex, in November 2000, is registered under her maiden name.
Steve Holland, Reina Bull, Bear Alley. Published 06 Jan 2010.
Ad blocker interference detected!
Wikia is a free-to-use site that makes money from advertising. We have a modified experience for viewers using ad blockers

Wikia is not accessible if you've made further modifications. Remove the custom ad blocker rule(s) and the page will load as expected.