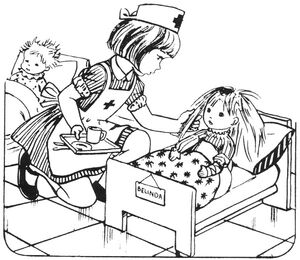 Sabine Price is an artist who worked for British nursery comics, including drawing "Nancy the Little Nurse" for Twinkle from 1968-1998. This started off in back and white, and then went into colour in 1988. "Nurse Nancy" was always the most popular story in Twinkle, and for a while in the 1990s was promoted to the front cover, when the title was changed to Twinkle and Nurse Nancy. Her other page in Twinkle was "Benny, my Baby Brother" which was also popular and ran for nearly as long. She also illustrated for other comics in the 60s, such as Robin, as well as several picture books,such as Playing at Home, Podge and Pom, Sally and the Colour Pixies, and An ABC Adventure in Toyland.
References
Edit
Denis Gifford, Encyclopedia of Comic Characters, Longman, 1987, p. 151
Ad blocker interference detected!
Wikia is a free-to-use site that makes money from advertising. We have a modified experience for viewers using ad blockers

Wikia is not accessible if you've made further modifications. Remove the custom ad blocker rule(s) and the page will load as expected.