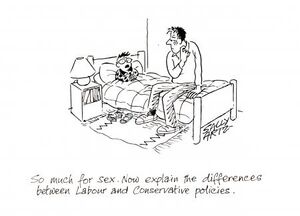 Sally Artz (b. London, March 14, 1935), daughter of painter Benjamin Artz, studied graphic design at St. Martin's School of Art, and after she graduated in 1953 she worked as a commercial artist and animator. She sold her first cartoon to the Weekend Mail in 1955, since when she has drawn gag cartoons, comic strips, illustrations and animations for a variety of publishers, publications and producers. She drew comics for Sunday Extra, the comic supplement of the British newspaper the Sunday Citizen. She claims Nicholas Bentley and New Yorker cartoonist Chon Day as her major influences.
Alan Clarke, Dictionary of British Comic Artists, Writers and Editors, The British Library, 1998, p. 5
Ad blocker interference detected!
Wikia is a free-to-use site that makes money from advertising. We have a modified experience for viewers using ad blockers

Wikia is not accessible if you've made further modifications. Remove the custom ad blocker rule(s) and the page will load as expected.