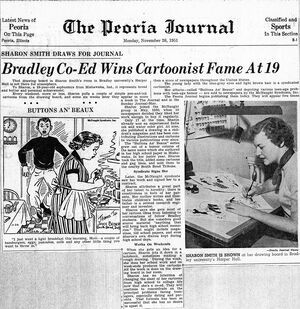 Sharon Smith grew up in Indiana, the child of an artist-writer mother and engineer father. She began her art career at the age of nine when she had a drawing published in Children's Activities Magazine (now Highlights For Children).
In 1950, Smith launched "Buttons An' Beaux," a single-panel gag strip about teenage dating and relationships. It was syndicated nationally by New York's McNaughton Syndicate. Smith's perspective on her subject matter was especially pertinent because she was 17 years old when the strip began running. She continued producing "Buttons An' Beaux" as a 'Co-Ed' at Bradley University until 1953.
Smith went on to a successful career as a children's book illustrator under the name Sharon Kane. While married and raising children, she illustrated more than 25 picture books for Golden Press and Rand McNally with titles such as My Baby Sister, Little Red Riding Hood, My Counting Book, Counting Rhymes, Giant Golden Book Of Storytime Tales, Tie My Shoe, Peek-A-Boo, Time For A Rhyme, Little Mommy, The Farmer In The Dell, The Pet Parade, Time For Everything, Bedtime Stories, The Christmas Snowman and many others.
Ad blocker interference detected!
Wikia is a free-to-use site that makes money from advertising. We have a modified experience for viewers using ad blockers

Wikia is not accessible if you've made further modifications. Remove the custom ad blocker rule(s) and the page will load as expected.