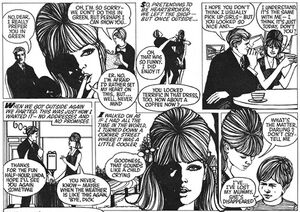 Shirley Tourret (1935-2007) was educated at Harrow Art School before becoming a freelance illustrator, illustrating books for children and adults. She also worked in British girls' comics, including Boyfriend in the early 1960s. Her sisters Gwen and Pat are also illustrators and comics artists.
References
Edit
Ad blocker interference detected!
Wikia is a free-to-use site that makes money from advertising. We have a modified experience for viewers using ad blockers

Wikia is not accessible if you've made further modifications. Remove the custom ad blocker rule(s) and the page will load as expected.