Spring is a German women's comics magazine, released annually every summer since 2004.
Issue 1: Nachstellungen (Enactments)Edit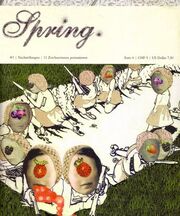 Contributors
Cover by Claudia Ahlering
Issue 2: Wandlungen (Changes)Edit
Contributors
Cover by Natalie Huth
Issue 3: special placesEdit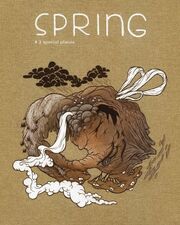 Places are everywhere. Until we explore them, they remain white spots on the outer or inner map. Only the presence of an observer is a place where a form, a shape and definition, only the view of a visitor makes a place special. We opened us to the places of memory, places the reality and the places of our dreams. This is our travelogue.
Contributors
Cover by moki
Issue 4: Garten Eden (Garden of Eden)Edit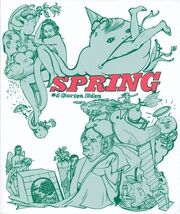 In the Garden of Eden sitting under the palm trees of knowledge, a feisty Eve makes decisions beyond good and evil. Adam, meanwhile, saw the tree of life, while celebrating sin in the deep thicket of the forest itself. Whatever you want to call this auspicious Location: Paradise, Nirvana, Avalon ... Our ideas of them are to be found in this world.
Contributors
Cover by Katharina Gschwendtner
Issue 5: Alter EgoEdit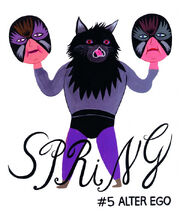 They are the sorts of others, we could be if we had taken a different turn here or there. They are, when we appeared, we would be silly, bible fixed, choleric, bold, energetic, scary, meaner. The fifth SPRING band collects dialogues with characters with whom we have daily handling, without ever coming across them on the track.
Contributors
Cover by Carolin Löbbert
Issue 6: Verbrechen (Crime)Edit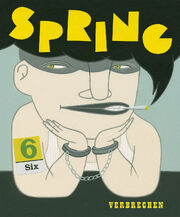 Lies, intrigues, theft, murder, blood and thunder – twelve artists strike again, and more recklessly than ever. The darkest SPRING of all!
Contributors
Cover by Larissa Bertonasco
Issue 7: Happy EndingEdit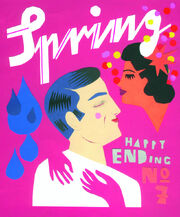 "... And they lived happily ever after." "Not seriously, right?" "No, not seriously."
This issue received the ICOM Independent Comic Special Jury Prize "for a remarkable comic publication".
Contributors
Issue 8: Familiensilber (Family Silver)Edit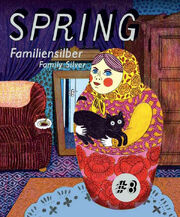 Not everything that you inherit, you want to have. This applies to the valuable but tarnished grandmother's silver cutlery just as it does to the predisposition to obesity or idleness. Each family has an infinite number of stories to tell, twelve of which are gathered in this volume.
Contributors
Cover by Sophia Martineck
Issue 9: Reineke F. (frei nach Goethe)/Goethe's "Reynard the Fox"Edit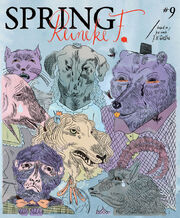 "Reynard the Fox" deals with power, violence, guilt, intrigue, injustice and lies. It is about greed, ambition, fickleness, cowardice, stupidity and deceitfulness. Reynard is both a repelling and fascinating subject. Like its predecessors, this issue of SPRING is a narratively creative experiment in which each illustrator has enjoyed their own freedom of interpretation. Each of the 12 artists has reworked one chapter of Goethe's work. With English subtitles.
Contributors
Cover by Romy Blümel
Issue 10: ABC of TragedyEdit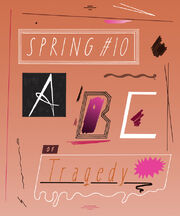 10 years of SPRING! 32 artists from eight countries create 250 pages filled with fateful stories about inevitable conflicts and tragic heroes. The ABC of trivial, absurd, mysterious, enchanting tragedies.
Contributors
Cover by Anne Vagt
Issue 11: Wunder (Wonder)Edit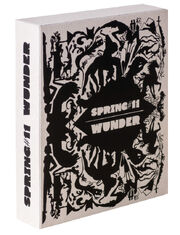 15 posters by 15 artists in a screenprinted slipcase (designed by Katharina Gschwendtner) PLUS booklet with texts by Teresa Präauer, Jochen Schmidt, Michael Weins, Tessa Müller, Benjamin Maack, and Katharina Hartwell.
Contributors
Slipcase by Katharina Gschwendtner
Texts by:
Teresa Präauer
Jochen Schmidt
Michael Weins
Tessa Müller
Benjamin Maack
Katharina Hartwell
Issue 12: Privée (Private) Edit
Contributors
Ludmilla Bartscht
Larissa Bertonasco
Ulli Lust
Moki
Katia Fouquet
Almuth Ertl
Katharina Gschwendtner
Line Hoven
Carolin Löbbert
Sophia Martineck
Nina Pagalies
Katrin Stangl
Maria Luisa Witte
Stephanie Wunderlich
Issue 13: The Elephant in the Room Edit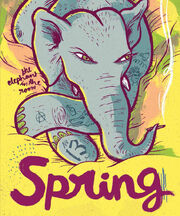 Contributors
Anpu Varkey
Archana Sreenivasan
Barbara Yelin
Garima Gupta
Katrin Stangl
Kaveri Gopalakrishnan
Kruttika Susarla
Larissa Bertonasco
Ludmilla Bartscht
marialuisa
Nina Pagalies
Prabha Mallya
Priya Kuriyan
Reshu Singh
Ulli Lust
Stephanie Wunderlich
Issue 14: Yo Future! Edit
Contributors
Almuth Ertl
Carolin Löbbert
Cynthia Kittler
Edith Carron
Eva Revolver
Gabriela Jolowicz
Johanna Benz
Katia Fouquet
Laura Edelbache
marialuisa
Marijpol
moki
Paula Partzsch
Romy Blümel
Stephanie Wunderlich
Tiziana Jill Beck
Issue 15: Arbeit (Work) Edit
Contributors
Larissa Bertonasco
Romy Blümel
Doris Freigofas
Jul Gordon
Katharina Gschwendtner
Friederike Hantel
Carolin Löbbert
moki
Nina Pagalies
Paula Partzsch
Katrin Stangl
Birgit Weyhe
Stephanie Wunderlich
"Best of" Exhibition
Edit
A "Best of Spring" exhibition was held from March 8 to March 29, 2012, at Der Oberösterreichische Kunstverein (The Upper Austrian Art Association) as part of the Nextcomic Festival in Linz, Austria.[1][2]
Featured Artists:
External Links
Edit
↑ "'Best of SPRING' in Linz!" blog post