T.C. Harrison (aka Tali Adina) is a writer, poet, and self-published author.
Between 2011 to 2016 the author wrote for a myriad of pop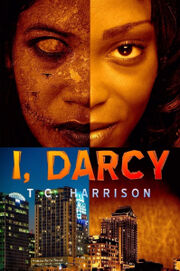 culture sites, before retiring. Some of their posts are also featured on Panel and Frame on Medium.com. Six of T.C.'s comic book stories were published in the Womanthology and Grayhaven Comic's The Gathering anthologies. Their short story "Uirusu" was first featured in the August 2014 Apocalyptic Fiction issue of The Sirens Call EZine.
The author has also self-published seven poetry books, one horror short story/flash fiction collection, and a mermaid fantasy novella. In addition, they co-wrote an article for the Fall 2013 issue of the Florida Libraries Journal, Florida Libraries Association. T.C. presently resides in Central Florida and continues to work on poems and stories that they hope to publish. The author's first novel I, Darcy is set for publication this October.
Comics Bibliography
Edit
Fiction Bibliography
Edit
Ad blocker interference detected!
Wikia is a free-to-use site that makes money from advertising. We have a modified experience for viewers using ad blockers

Wikia is not accessible if you've made further modifications. Remove the custom ad blocker rule(s) and the page will load as expected.