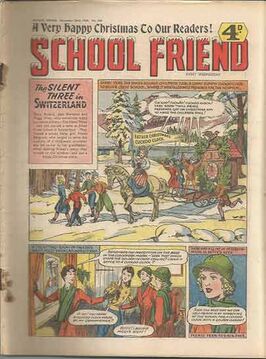 Valerie Gaskell drew for British girls' story papers and comics in the 1930s, 40s and 50s. She illustrated the long-running serial "The Cruising Merrymakers" in the story paper Girl's Crystal, and drew the comic strip "The Silent Three" in School Friend in 1956-60, taking over from Evelyn Flinders. She also painted covers for girls' annuals.
Alan Clarke, Dictionary of British Comic Artists, Writers and Editors, The British Library, 1998, p. 63
Ad blocker interference detected!
Wikia is a free-to-use site that makes money from advertising. We have a modified experience for viewers using ad blockers

Wikia is not accessible if you've made further modifications. Remove the custom ad blocker rule(s) and the page will load as expected.