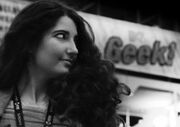 Vera Greentea is a comic book creator best known for her series Recipes for the Dead and Nenetl, of the Forgotten Spirits. Her first comic, To Stop Dreaming of Goddesses was originally published in the now out-of-print anthology Siren.
She was born in St. Petersburg, Russia and currently resides in New Jersey.
Ad blocker interference detected!
Wikia is a free-to-use site that makes money from advertising. We have a modified experience for viewers using ad blockers

Wikia is not accessible if you've made further modifications. Remove the custom ad blocker rule(s) and the page will load as expected.