Yvonne Jeanne Hutton (October 31, 1941 – March 1992), was a British comics artist best known for her work on soccer series Roy of the Rovers.
Hutton was born in the town of Weymouth in Dorset, England in 1941. While attending Poole Art College,[1] she got work in comics through Colin Page's studio.[2] She drew the "Roy of the Rovers" strip in Tiger from 1967-75, and again in 1976-78,[3] as well as a number of back-up strips in Roy of the Rovers weekly, including "Durrell's Palace" (1981-85), "Wayne's Wolves" (1985-86) "Kevin's Chance" (1986-87) "City" (1987-88), and "Terrible Twins" (1988-89).[4] She also drew the Roy of the Rovers daily strip in the Daily Star until December 1991, when she was involved in a serious car accident. She died in March 1992.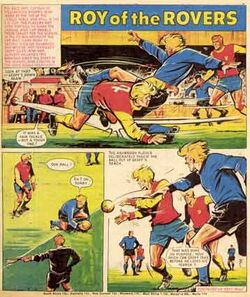 Ad blocker interference detected!
Wikia is a free-to-use site that makes money from advertising. We have a modified experience for viewers using ad blockers

Wikia is not accessible if you've made further modifications. Remove the custom ad blocker rule(s) and the page will load as expected.